Introduction
In April 1981 a short cist containing two inhumations and a cremation was discovered near Naas, Co. Kildare, when the capstone was dislodged by a harrow. The discovery was reported to the Garda Síochána at Naas, who informed the NMI. The site was visited that day by Michael Ryan, who sealed the cist and covered the site pending a proper excavation. The site was subsequently investigated by Eamonn P. Kelly and Paul Mullarkey. The human remains were analysed by Professor C.A. Erskine.
Location (Fig. 3.80)
The site was in the townland of Punchestown Great, east Co. Kildare, close to the border with County Wicklow.128 It lay at an altitude of 150–160m above sea level, and on the first edition OS 6in. map it was located just on the boundary of Punchestown Race Course. The area around this has a high concentration of early Bronze Age burials. A few miles to the west are the early Bronze Age burial sites of Oldtown and Pollardstown. Also in the vicinity are a standing stone129 and a ring-ditch.130
Description of site
The cist was trapezoidal in plan, with its long axis aligned north/south. Internally it measured 0.83m long by 0.6m wide by 0.6m high (Fig. 3.81). It was constructed of four edge-set slabs, each slightly inclined slab forming a wall, with the flat part of the slab facing inwards. The slabs were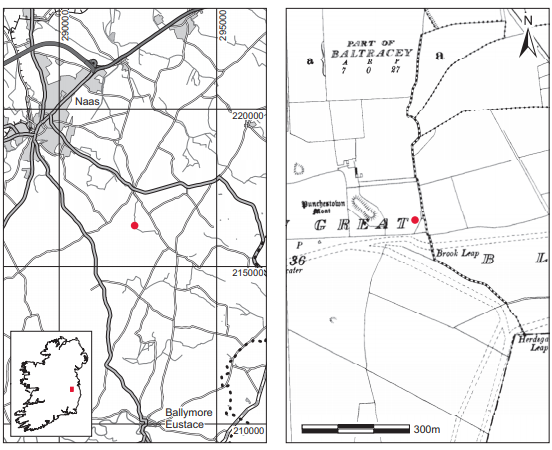 Fig. 3.80—Location map, Punchestown Great, Co. Kildare.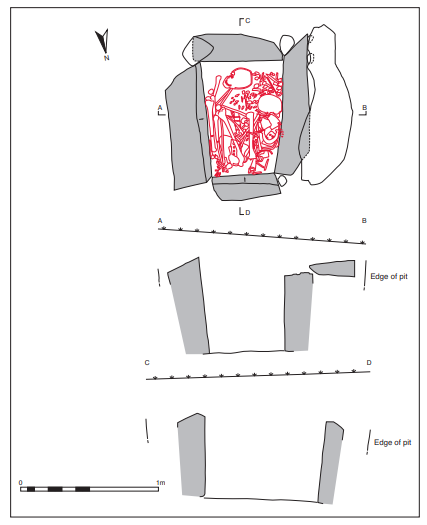 Fig. 3.81—Plan and sections of grave, Punchestown Great, Co. Kildare.
of substantial size, the maximum dimensions being 1.03m long by 0.23m thick. A small number of packing stones were visible on the south-east, south-west and north-west corners, and a long slab had been placed outside of and parallel to the western side slab of the cist.The function of this slab was probably to level this side of the cist with the other so that the capstone would rest flat. The cist was covered with a suboval capstone measuring 1.98m long by 1.4m wide by 0.18m thick. The floor of the cist does not appear to have been paved with stone.
The cist contained two crouched unburnt burials (the remains of a young adult female and a young adult male, 1981:355–6), cremated bone representing two individuals (1981:357) and some charcoal (1981:358). One skull was in the centre of the southern end of the cist, while the second was placed against the west wall of the cist. Judging from the position of the skulls and bones, the bodies appear to have been placed back to back. The cremation seems to have been placed in the southern end of the cist, mainly in between the two skulls. The cremation appeared to have been deposited later than the inhumations. Apart from an apparently desiccated earthworm found with the cremation, no accompanying objects were found in the grave.131
Comment
The human remains from this site were not dated. There was no pottery or other finds in the cist but it conforms to the early Bronze Age type. The cist contained both unburnt and burnt human bones, representing four individuals. The excavator suggests that the cremated bones were deposited later, but it is not possible to say whether there was any significant length of time between the two episodes. This might be resolved by radiocarbon dating of both the burnt and unburnt bones.
HUMAN REMAINS
C.A. ERSKINE
1982:355
Two individuals are represented in this collection: one female of approximately eighteen years and one male of eighteen to twenty years. The female bones consist of sacrum and fragments of left innominate and left humerus. The male bones consist of the skull: two large and two small fragments, facial and frontal bones in one fragment, posterior half vault in second fragment, left petrous and fragment in mid-fossa (sphenoid). One mandible in two pieces: molars with moderate wear. Twelve vertebrae; fifth lumbar ununited arch.
Ribs: fragments of most ribs; body sternum in two pieces.
Arm: two humeri, head absent in one. Two clavicles; two large fragments of scapulae. One right ulna; right radius in two pieces; three metacarpals; and thirteen carpals.
Leg: innominate bone left side, pubic bone missing, fragment of right present; two femora (one in two pieces); two tibiae complete; two left fibulae, one complete and one incomplete (two right scaphoid and two right hamate present).
1982:356
Two individuals are represented in this collection: one fragmentary; one almost complete, well-preserved skeleton of young male, eighteen to twenty years.
Skull: complete vault and base, mandible in three fragments, teeth show moderate wear.Vertebrae present and typical male sacrum showing incomplete fusion.
Ribs: fragmentary and incomplete. Two pieces of sternum.
Upper limb: left humerus missing, right complete. Clavicle, scapula, radius, ulna on both sides present. Hand bones incomplete. Right innominate bone with incomplete fusion of crest.
Lower limb: both femora, tibia, fibula and patellae present. Foot bones well represented. Hand bones incomplete. Fragmentary skeleton consists of seven pieces of base and vault of skull.
1982:357
A collection of small cremated bone fragments, mostly 1cm–2/3cm; nearly all bones of skeleton represented. Larger fragments consist of three pieces of innominate bone, four fragments of bodies of vertebrae, part of head of radius and one phalanx. Tooth fragments not identified. Two individuals represented.
128. Parish of Rathmore, barony of Naas North. SMR KD024-057——. IGR 292403 216306.
129. SMR KD 024-00901.
130. SMR KD024-010——.
131. The depth at which the earthworm was found, and the covering of ash on it, seemed to suggest its possible antiquity. The specimen was examined by Dr Sims of the Natural History Division of the British Museum, who concluded that the earthworm was not charred but could have suffered a thermal death, which may have effected its preservation.