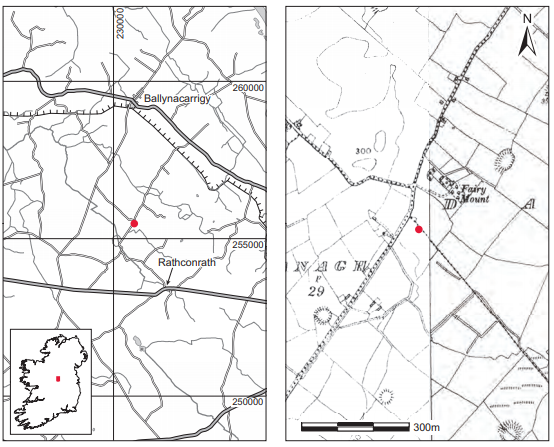 <>
Fig. 4.65—Location map, Davidstown, Co. Westmeath.

by Eamonn P. Kelly, and the human remains were examined by Professor C.A. Erskine. This report is based on Kelly's account of the site and on information obtained from the landowner, Mr Paul Murtagh. Human remains were also found in the same townland three years before, during land reclamation works. In February 1973 a human skeleton was apparently found 'in a mound of stones and black earth' measuring approximately 3.5m by 1.2m. The exact location of the site was not recorded in this instance, so its proximity to that investigated by Kelly is not known.

Location (Fig. 4.65)
The site was in the townland of Davidstown, just 4km south of Ballynacarrigy village, west Co. Westmeath.119 The graves were found approximately halfway up a gentle south-facing slope at an altitude of 90–100m above sea level. The site was approximately 150m east of the boundary with Rathduff townland and 800m south of the border between the baronies of Rathconrath and Moygoish. There is a ringfort just a few metres north-east of the site in Milltown townland, and three enclosures south of the site, also in Milltown.120

Description of site

Grave 1
This grave had been destroyed by the time Kelly visited the site, and the account is therefore based on information obtained from the landowner. It consisted of a simple unlined pit of subrectangular shape, aligned north–south and measuring approximately 1.2m long by 0.5m wide. No structural slabs were noticed but a pile of small stones appeared to have been placed beside the stomach. The grave contained a crouched inhumation (1976:9) and no accompanying artefacts were found. The body was aligned north/south with the head, slightly raised, to the north. The grave contained a light brown fill.121

Grave 2
This was located 3m north-west of grave 1. This burial had largely been destroyed before it was noticed and therefore it was not possible to estimate the dimensions of the grave. It appeared to have contained the remains of two individuals. No further details as to the disposition of the burials were noted.

Unfortunately, all of the human remains had been collected in a bag and remains from both graves had been amalgamated. The human remains from the whole site were examined by Professor C.A. Erskine and were found to represent three individuals, one of whom was an adult female. It is not, however, known from which grave this individual came.

Two radiocarbon dates were obtained from the recovered bone, 1240±40122 and 1235±35123, which calibrate to 680–882 and 686–881 respectively.

Comment
These burials were dated solely on the basis of the radiocarbon determinations. Interestingly, one of the burials may have been crouched, a very unusual rite in the early medieval period (O'Brien 2003) but which is also seen at Sonnagh Demesne (this volume, pp 204–12). One crouched burial was also excavated in what appears to be an early medieval ancestral cemetery at Knockea, Co. Limerick (O'Kelly 1967, 83). This may represent the late survival of an earlier tradition.

HUMAN REMAINS
C.A. ERSKINE

The collection (1976:9) comprises 150–200 fragments 3–5cm in size and large pieces of limb bones and skull of three incomplete skeletons; nearly all bones of skeleton represented. One skeleton of adult female represented by upper quarter of femur and fragment of ilium; large pieces of upper part of left femur, right femur (lower half), left and right tibiae (in five pieces), and fragments of fibula, radius and ulna. Right and left clavicle, small and slender. Skull: 35–40 pieces, with vault in two fragments. Right and left temporal bone fragments with small mastoid processes; two mandibles in two pieces with moderate wear on teeth.

119. Parish of Rathconrath, barony of Rathconrath. SMR WM018-149——. IGR 230667 255484.
120. SMR WM018-044——-; -045——; -046——; and -047——.
121. The human remains from the whole site were examined by Professor C.A. Erskine and were found to be the remains of three individuals, one of which was an adult female. It is not clear in which grave this burial was found.
122. GrA-29051.
123. GrA-29053.